CBS Case Managers are responsible for maintaining safe, supervised, and structured programming that promotes improved social, developmental, and educational functioning of the clients we serve.

Case Managers will be confident, positive, and highly motivated. Case Managers will be knowledgeable of the Community Based Services program guidelines and practices, essential duties and responsibilities and will maintain professional relationships with clients, parents, counties, and other contracting agencies. Case Managers will deliver effective and timely services.

As a Case Manager, you will enjoy these benefits:
Initial and continuous training

Retirement planning with employer match

Employee assistance program

Flexible Scheduling
Some of the skills and experience we are looking for from you:
Bachelor's degree in a human/social services related field preferred

Previous experience working with a youth

At least 21 years of age

Hold a valid driver's license
Your responsibilities as a Case Manager may include:
Maintain regular contact with clients, families, and other collateral contacts (school staff, social workers, counselors, therapists, parents/guardians, attorneys, guardian ad litem, and judges).

Attend client intakes to provide an introduction and discuss client's goals and objectives.

Be well informed about the history and treatment objectives of each client and incorporate treatment interventions into individual care.

Monitor client progress and compliance with program expectations.

Provide individualized services to clients and families in the Mentoring, Day Supervision, and Supervised Visit programs.

Travel to designated meeting locations and transport clients, as needed.

Acknowledge and respond to various traumatic histories and create a Trauma Informed Care Safety Plan with clients.

Track client interactions, phone calls, attendance checks, school performance, and travel time.

Submit all documentation and progress reports to referral source on time.

Maintain complete, accurate, and organized client files.

Ensure client safety by recognizing and preparing for threats of harm.

Ensure clients receive medications as prescribed adhering to medication administration policy and procedure, as needed.

Act as a positive role model by leading by example.

Distribute discharge evaluations to clients, families, and referral sources to seek program feedback.

Complete all discharge documentation and filing requirements.
Your schedule will include:
Shifts vary dependent on the number of clients served and services provided.

Majority of shifts are afternoons/evenings, though shifts range between the hours of 8 a.m. and 8 p.m.

Rotating Saturday shifts required, as needed.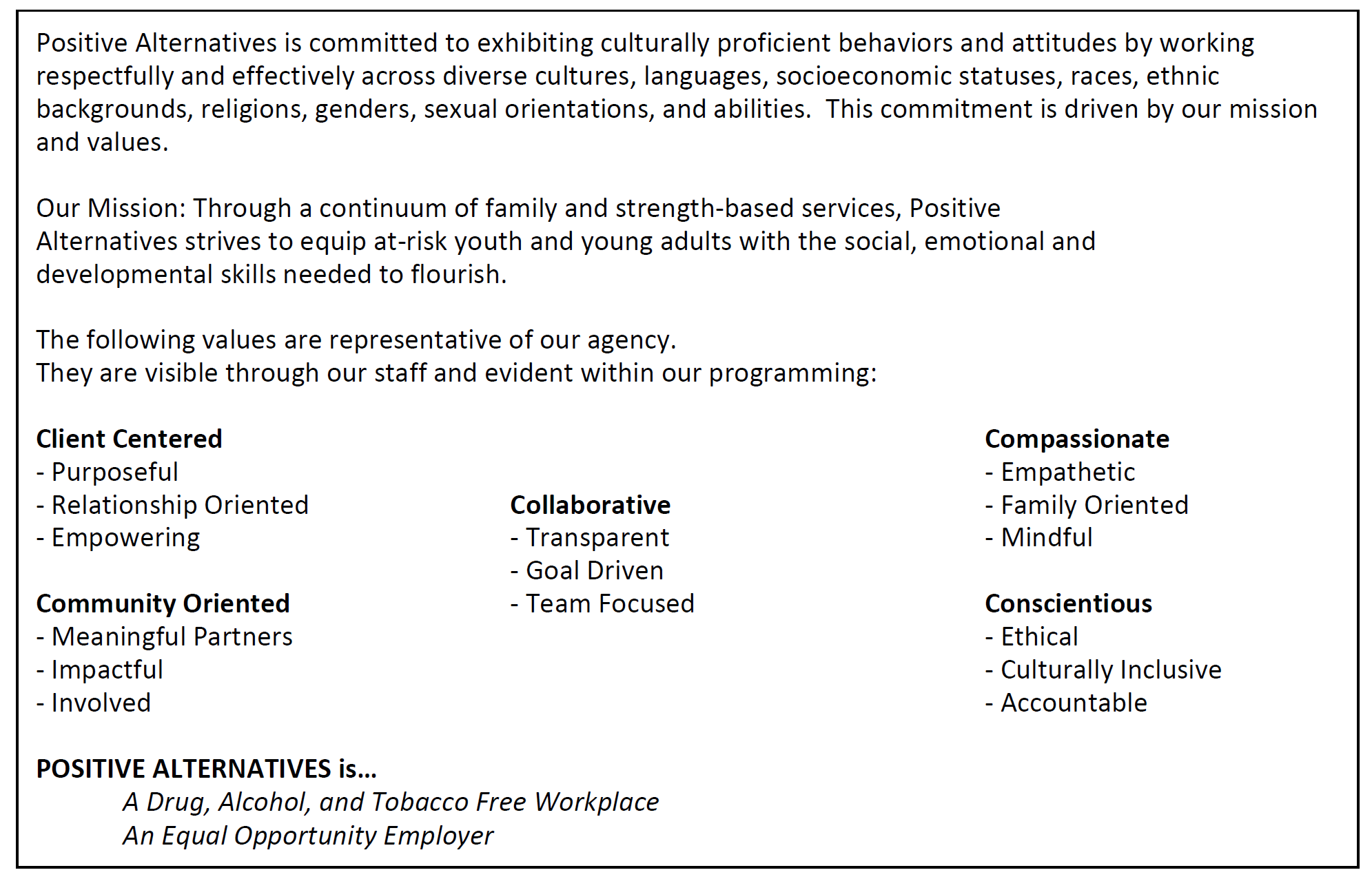 Department: Community Based Services
This is a non-management position
This is a part time position