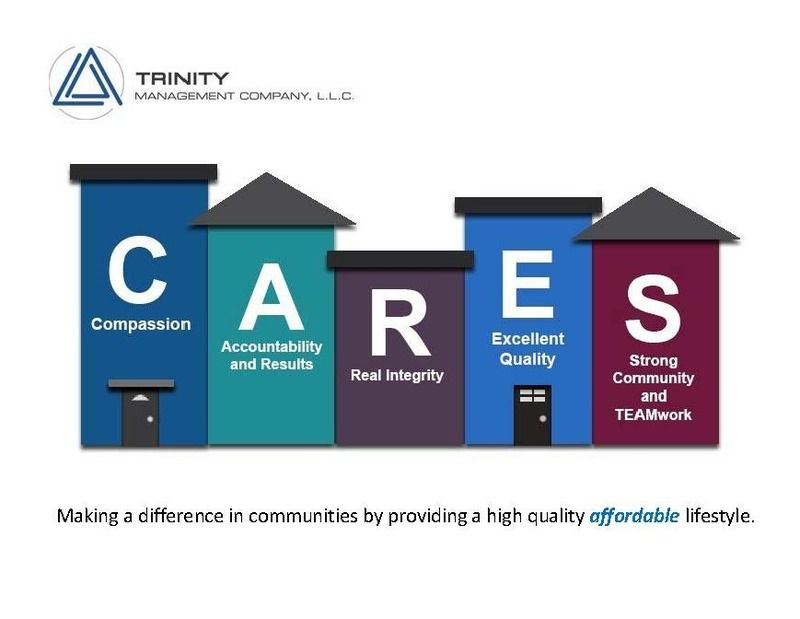 Trinity Management Company is a successful Arizona-based property-management team of professionals. To make certain that our residents receive the best service possible, we exhaustively evaluate and train our entire management team for optimal success. We take great pride in our communities and we believe that servicing our customers starts from the moment a guest walks onto one of our properties and continues long after our residents turn in their keys. Understanding that the residents of our communities are our greatest ambassadors led to our guiding principles and accompanying behavior.
Trinity Management maintains a constant focus on improvement to always do better than the day before. We attract and keep the most talented management team by offering attractive performance-based compensation, as well as continuous education to ensure that our staff are skilled business operators, lessors, and maintenance supervisors.
EOE
We participate in the e-verify program
www.dhs.gov/E-Verify
Our current positions:
If we don't have an open position that fits you, feel free to subscribe to our Talent Team email! Enter your name, email address and position(s) you're interested in, and whenever we open a new position matching your criteria we'll notify you immediately.
Human Resources Manager (Tucson, AZ)
For more than 40 years, Ruiz Asset Management Company has been involved in real estate development and construction as well as property management of multi-family housing throughout the Southwestern United States. Together with its affiliates, Ruiz Asset Management Company has been recognized as developers of exceptional properties while contributing to the economic expansion of numerous communities. We are currently seeking a highly qualified and experienced HR Manager to work from our corporate office in Tucson, Arizona.
Maintenance Supervisor (Phoenix, Arizona - San Giovanni Apartments)
This is a challenging and financially rewarding opportunity for an amazing career with a growing company. If you are a dynamic, team-oriented professional that can fix just about anything, while consistently delivering uncompromising customer service, and exceptional leadership skills, this may be the perfect career opportunity for you!
Maintenance Technician - Apartment Maintenance Lead Tech (Tolleson, AZ - San Lucas Apartments)
Our Lead Maintenance Technicians perform the day-to-day upkeep and repairs of our properties to include unit turns, service repairs, pool care, and preventative maintenance. They are an integral part of the team dedicated to ensuring the communities meet the quality maintenance standards set by Trinity Management. The ideal candidate will be a team-player with a background in construction, painting and/or skilled labor with the desire to learn the apartment industry and work both independently and as part of a team.
Don't see a job that fits you? Check out Join Us above
If we don't currently have an open position in your area, you may submit a Resume or an Application for Employment
If you already have an application in progress you can retrieve and edit it by clicking here